Neighborhood Exchange



GUIDING QUESTION ─


How might we foster social infrastructure?


Through building community connections. The Neighborhood Exchange is a physical platform for the trading of ideas, objects, services, things, stories, food, or experiences - all for free.






SKILLS ─

Civic Service Design
Design Research
Facilitation
Community Engagement
Experiential Marketing
Brand Activation
Brand Identity


PROPOSED CLIENT ─

Nextdoor, a hyperlocal online
social networking service.
This is a pitch to Nextdoor for a brand activation that strengthens the connection between the consumer and the brand.


COMMUNITY PARTNER ─

Boston Mayor's Office, New Urban Mechanics


TIMELINE ─
4 weeks




Design Journey
Context
The project grew out of the partnership with the Boston Mayor's Office of New Urban Mechanics. The team previously conducted an experiment by creating love letter templates that constituents from around the City completed.
"The letters enabled individuals to describe elements (spaces, services, experiences) of Boston they have strong emotions toward and articulate those feelings. This research has been used to develop important and impactful tactical decisions for the space, including spatial, service, and experience designs." - New Urban Mechanics (MONUM)
The team felt that the Love Letter project data could be used further and so they invited us to use them as a jumping off point.
Understand
ANALYSIS
The 30+ love letters to Boston were analyzed and common themes were highlighted:
Residents feel love towards the city of Boston through it's physical social spaces.
High housing costs in the Mission Hill area caused the residents to 'break up' with the South Boston area.
The feeling of a high level of community camaraderie is what keeps constituents living in certain areas - where all ages mingle.
Certain pockets of Boston offer more opportunities than others.
Research
BRAINSTORMING
The data and insights were then used to do further research on the broad definitions and interpretations of love letters.
Qualitative Research
15 Boston residents completed the Love language online survey below. The following data was concluded that most people show their appreciation through giving and recieving of gifts and acts of service.
Desk Research
Develop
TEST
1.
I interviewed a few Bostonians on their memories of sharing, giving and receiving.
2. 30 Picture Persona Exercise:
Next, I had ten friends send last thirty pictures in their phone camera roll to another friend of mine, that they didn't know. They both then guessed each others persona. These images are a peak into who they are, their interests, and seeing the world through their eyes.
3.
The research now transitions into the physical world with indirect exchanges between strangers. A duck shaped basket, glass pitcher, vase, and ceramic container were left in different areas around town. The prompt was to keep the item for three days and place it in a new location.
Develop
ITERATE
The digital interactions lacked personal investment, emotion and continuous participation. This lead me to move from the digital space of giving and receiving to the physical space - the Neighborhood Exchange event emerged.
TEST
The event was first tested in a home setting with a small group of friends that did not know each other. Each participant brought an item to to trade with someone else and told the history of that item. Some examples of what they brought were Turkish Lira coins, a family banana oat recipe, and a stones from someones past vacation. Through storytelling, they created deep bonds. Matchmaking the participants was based on which piece of paper they drew from the bowl.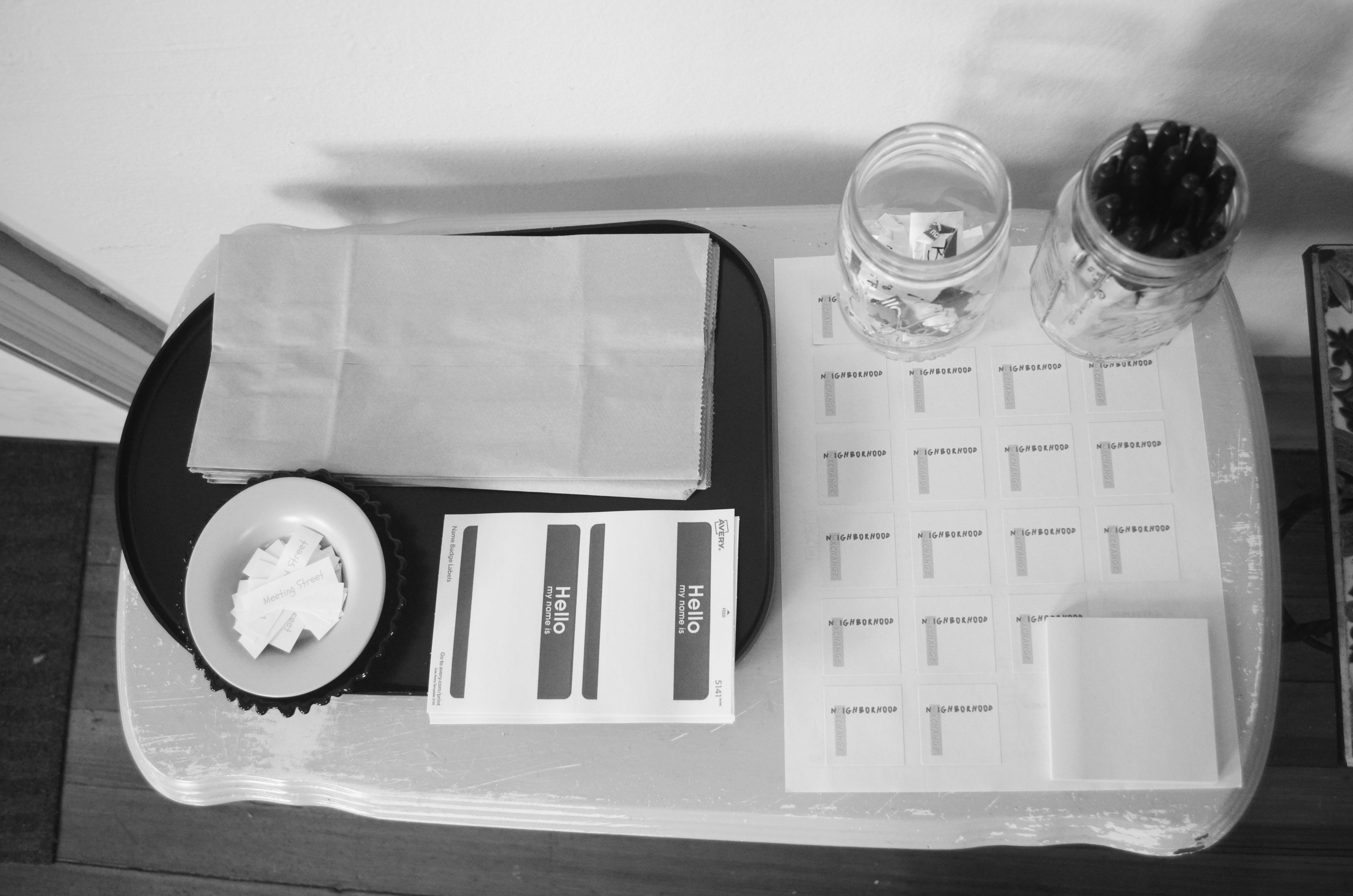 Implement
ADVERTISING
The next Neighborhood Exchange was public! The residents of Providence, RI were invited to the event. I partnered with local organizations and restaurants to publicize the Exchange in advance. As well as, going door to door, and handing out invitations on the street.
LAUNCH!
The day of the Neighborhood Exchange 20-25 participants were present at various times throughout the event. People brought things ranging from a poem to a box of raisins; a handmade bracelet to Tibetan singing bowl lessons.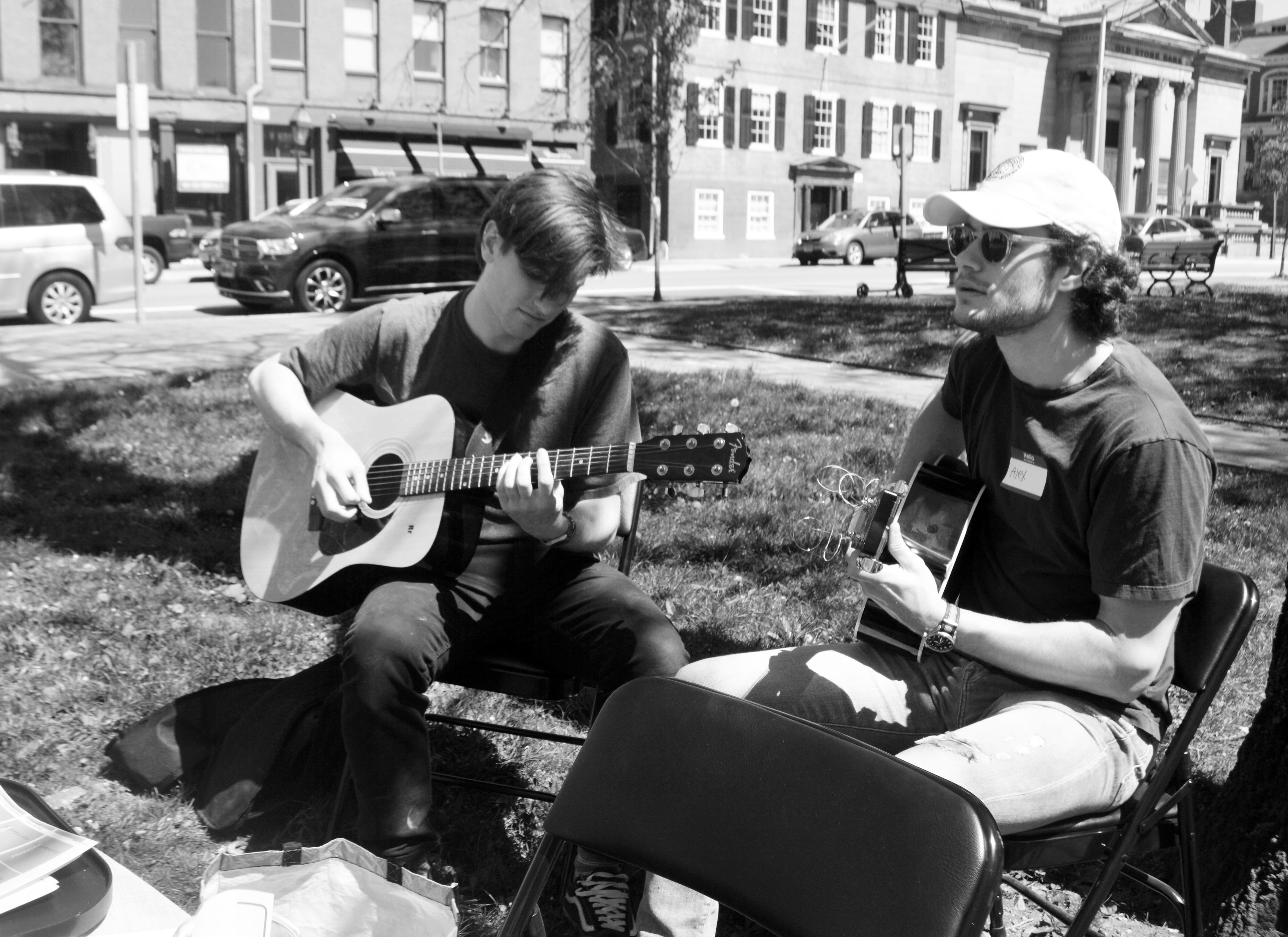 Toolkit
SCALING
The Rhode Island Neighborhood Exchange was only a prototype to flesh out logistics and reactions to the event. This toolkit concept is an attempt to reimagine the various interactions in this engagement process, so that the power dynamic doesn't leave parts of the community feeling ignored or misrepresented. The event is most successful when community members are key stakeholders in the planning, and execution of the event.
A peak inside the toolkit below.
Evaluate
FEEDBACK
Some were interested in the event because they just moved to the area, came for work networking, or were elders who wanted to socialize. A presentation by the final recievers was requested, as well.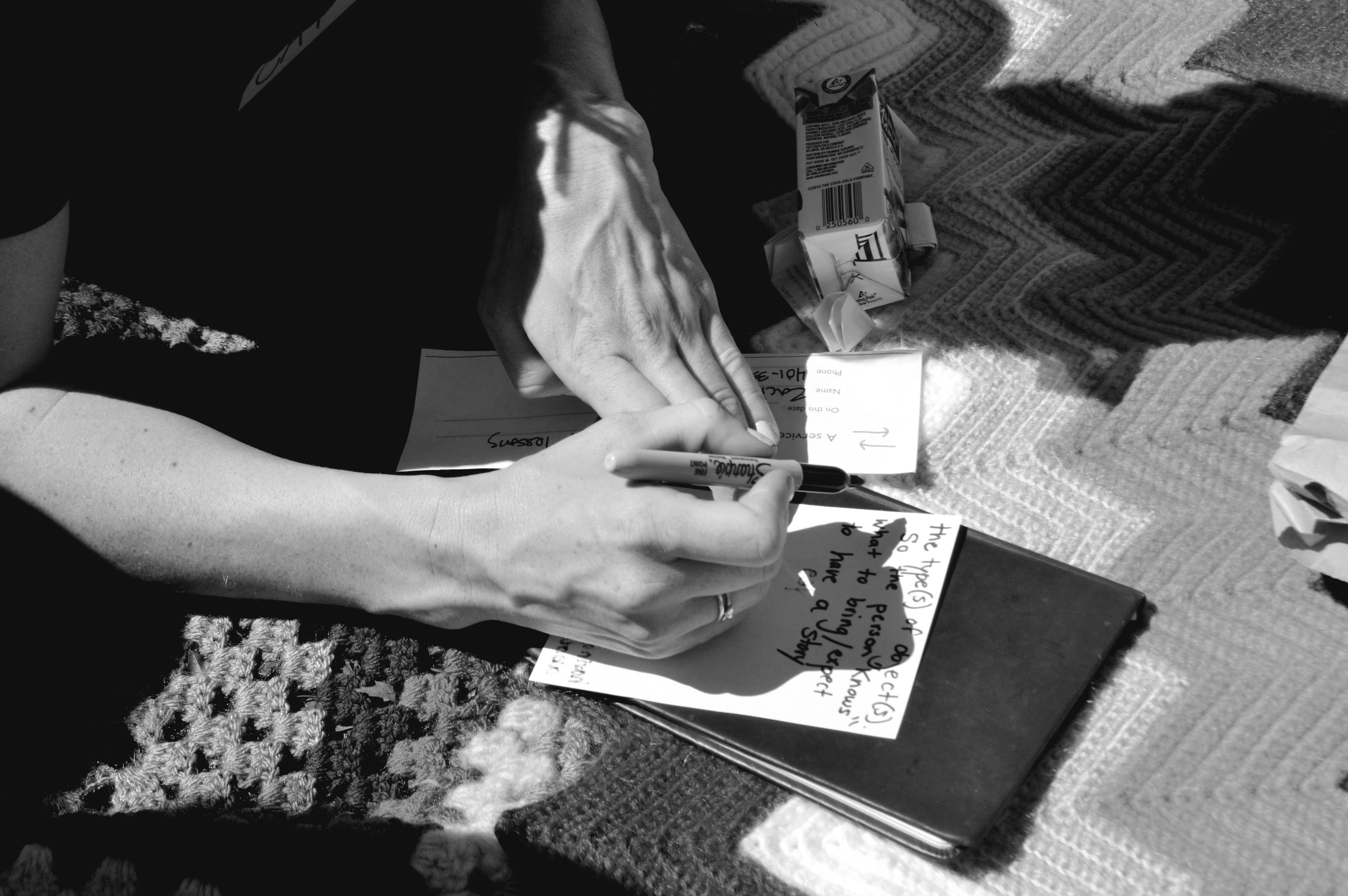 INSIGHTS
The elders, students, tourists and locals did not have a hard time blending together when there are shared commonalities. Intergenerational connections are made when there is a comfortable 'framework', with clear expectations and boundaries.

Some attendees felt more comfortable in larger groups settings of three to four people.

In the future, I will provide different formats for a range of comfort levels, so introvert personality types can engage comfortably. Possibly an outdoor museum observational format - bring your own object to location, write about it's history and hang it up. Then walk around quietly and read the stories.



There is a fine line between structuring the event too much and letting spontaneity take the reins.

UNDERLYING THEMES
The event hints at the alternative Gift Economy and the Sharing Economy.

An alternative to our traditional capitalistic

economic system

.

The Neighborhood Exchange is a version of a pop-up a Third Place. In community building, the Third Place is the social surroundings separate from the two usual social environments of home and the workplace. Examples of third places include churches, cafes, clubs, public libraries, bookstores or parks.
FURTHER QUESTIONS
Should the event stay to a smaller scale or grow?
How can we form deeper connections that continue after the event?
How can I measure that this improved the local social infrastructure?
How do you make people feel like they are genuinely invited, wanted, and welcomed to a place?